Report from the 12th ICA-AP Research Conference
27 Nov 2017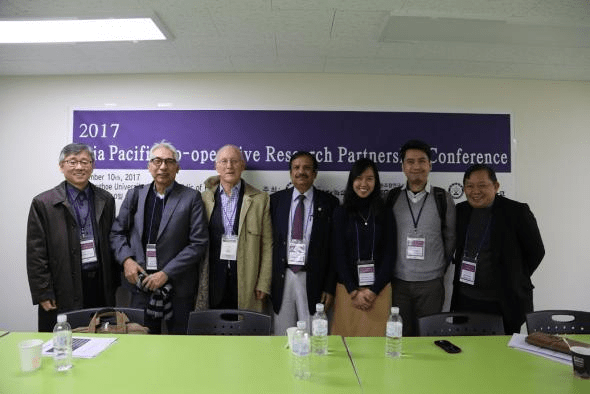 ​The 12th ICA-AP Research Conference was held at Sungkonghoe University, Seoul, on 11-12 November 2017. Seventy members took part from Australia, India, Indonesia, Japan, Malaysia, Nepal, South Korea, Philippines, United Kingdom, United States and Vietnam. The conference was opened by welcome addresses by the President of Sungkonghoe University, Vice-Mayor of Seoul City and Chairperson of iCOOP Co-operative Institute. The congratulatory address was made by Mr Balu Iyer, ICA-AP Regional Director.
The conference theme "Co-operatives: The key solution for Social Innovation" was introduced by Prof Seungkwon JANG (Sungkonghoe University). Prof Akira Kurimoto, Chair of the ICA-AP CCR, gave the opening remarks on the topic - "Where co-operative research has come from, where it is now, and where we might be heading." Prof Sonja Novkovic, Chair of the ICA CCR committee, delivered a keynote speech on "Multi-stakeholder co-ops and social innovation" while Prof Morris Altman (Newcastle University) gave another keynote speech "Is there a co-operative advantage?"
A total of 84 abstracts was received, out of which 59 were selected for full papers. Finally, ICA-AP received 35 full papers, of which 25 papers were presented at the six parallel sessions under following six categories: producers/consumer co-ops, financial co-ops, youth and education, environment and energy, co-operatives and work, social service and gender. In the closing session, five young researcher received accolades as part of the ICA-AP's Dr Mauritz Bonow Award, the ILO Award and NCUI Award. With special thanks to the host organisations, the chair closed the conference.
On the second day, an excursion was organised by the host. First, participants visited the Seoul Innovation Park as a cluster of co-operative and social economy initiatives. They then continued the tour to the Craft Village Co-operative in tourist attraction Bukchon quarter. Finally, they observed an iCOOP consumer co-op store and an agricultural co-op's Hanaro Mart.