Remembering Prof. T. Paranjothi, ICA CCR Executive member representing Asia-Pacific region
13 Sep 2020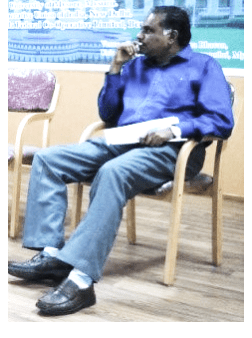 We join our friends and colleagues in mourning the loss of Dr. T. Paranjothi, Vice Chairperson of the ICA Asia Pacific Committee on Cooperative Research and ICA CCR Executive member. He left us on September 13, 2020 following a cardiac arrest in Thiruvananthapurm, Kerala where he served as Director of the Agricultural Staff Cooperative Training Institute. Dr. Paranjothi was actively engaged with cooperative research, innovation and education and held positions of repute in the field of cooperative education at the national and international level. 
Dr. Paranjothi was associated with the cooperative education fraternity in India for over 35 years. He had held all top positions in the system of (Indian) Institutes of Cooperative Management or ICMs. He had also served as secretary of the National (India) Council for Cooperative Training in India. 
We also knew him as a busy and active academician. Always ready to spread knowledge and inspire, and at the same time, eager to learn. His sincere participation in the recently concluded online course on platform cooperatives by Trebor Scholz and Jose Mari Luzarraga at The New School, New York is a testament of his unique rigour  He had very recently reviewed abstracts submitted for the cooperative research conference during the 33rd World Cooperative Congress in 2021.  
Dr. Paranjothi finished his M.A. (Cooperation) and pursued an M.Phil in Applied Economics and completed his Ph.D in Economics. He is survived by his wife who also belongs in the field of education. Until his death, Dr. Paranjothi served as vice chair of the AP research committee and was leading the preparatory work related to the 15th AP CCR conference, due this December. He had led similar efforts in organizing the AP CCR conference in 2015 during his time at the Vaikunth Mehta Institute of Cooperative Managament or VAMNICOM.  We are proud to share a link to his co-authored book titled Cooperatives and Social Innovation published by Springer in 2020. https://www.springer.com/gp/book/9789811588792#
We as his colleagues and friends will remember him  as a friendly, kind and a light-hearted person with an undying spirit for cooperatives, cooperative education, and research.