ICA's President invited as a keynote speaker at the UN conference on the role of the SSE to achieve the SDGs
25 Jun 2019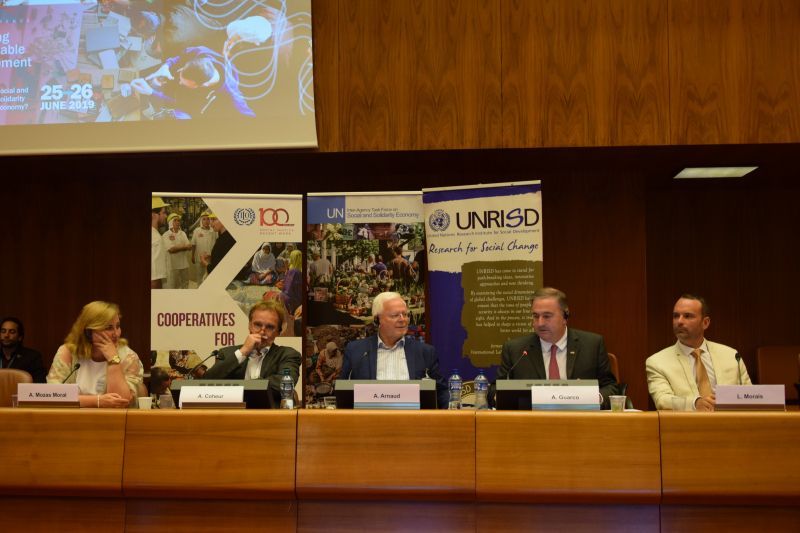 Cooperative's experience was largely explored at the UN conference 'Implementing the Sustainable Development Goals: What Role for Social and Solidarity Economy?' held on 25 and 26 of June. Ariel Guarco, President of the International Cooperative Alliance (ICA), gave the Keynote Speech and opened a special session co-organised by the ICA. 
The event was organised by the United Nations Inter-Agency Task Force on Social and Solidarity Economy (UNTFSSE) at the International Labour Organisation headquarters, in Geneva and gathered UN agencies and other inter-governmental organizations, as well as umbrella associations of SSE networks. 
On that occasion, during his opening speech, Ariel Guarco stated that at a time where our communities feel helpless in the face of the hegemonized concentrated capital "we have the option of isolating ourselves, or we have the path of thinking about a new globalization, which is driven by the participation of local communities, and which is centrally oriented towards the fulfillment of the SDGs".
For ICA President's the SSE is: "economy in the hands of the communities, entities oriented to satisfy the needs and to make feasible the projects of the workers, the producers, the consumers and the families of each community".
On day one of the conference, a special session on the 'SSE impacts for the SDGs', organized by the ICA, the International Centre of Research and Information on the Public, Social and Cooperative Economy (CIRIEC), and the SSE Forum International, explored the theme with examples from India, Brazil and Spain. 
During the session, Mr. Guarco declared that "[the cooperative movement] is strongly committed to this agenda and feels it has a leading role in the Global Alliance to achieve sustainable development". ICA's President further explained that this commitment is in the DNA of cooperatives themselves, having devoted "long before the concept of the SDGs was invented".
The conference delved into many themes. Among them, the SSE for Women's Empowerment and Gender Equality, going from a Local to a Global SSE movement, SSE for Food and Agriculture and many others.
Over the two days of the conference, 43 papers were presented over 20 different sessions and the conference gathered a bit more than 200 participants.
Several of the sessions were also recorded and streamed on Facebook during the event. You can find all of them on the following page.
Find on this link a few pictures taken during the conference. 
Presentation slides are available on the Knowledge Hub, over the next months, organisers will continually add papers and think pieces to develop the Hub into a rich knowledge base on the contribution of SSE to the Sustainable Development Goals.
More information here.